french version,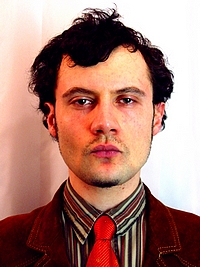 ADRIEN FOURNIER
Author Director Artist born on march the 31st 1978
<![if !supportEmptyParas]> <![endif]>
EDUCATION
2017: Methodology of research (sociology)
CNAM Paris, France
2005: PhD Diplôme National Supérieur d'Expression Plastique
2003: Faculty of arts, spanish basque country (audiovisual studies)
Bilbao , Spain

2002: honors degree Diplôme National d'Arts Plastiques
1999: Integrate Superior Arts Décoratifs school of Strasbourg (Art section)
1998-1999: Ateliers de Sèvres school for 6 months
Paris
1998: baccalaureat F-12 ( design creative art high school diploma)
Vauréal
From 1987 to 1999, theater practices with the TEM ATELIER performing group
Acting performance in several films as "la déchirure" (licorne d'or 2007) dir Mikael Buch,
"l'ENA, l'école du pouvoir" dir Raoul Peck, "coco avant chanel" dir Anne Fontaine, "coco & stravinski" dir jan kounen
in "Coluche" dir Antoine de Caune & other productions.
Dubbing the lead role of the chicken in Benjamin Nuel's serie "L'hôtel".
<![if !supportEmptyParas]> <![endif]>
SOME EXHIBITIONS:
2007: « Mulhouse 007 » exhibition. (Mulhouse)
2006 : Tagawa hotel exhibition (Bruxelles)
2005: exhibition with «le forum itinérant»
Musical performance at «la chaufferie» galery (Strasbourg)
2002: Musical performance with Joël Hubaut and Frédéric Lejunter (Strasbourg)
Since 2007 frequent exhibitions on "l'Art de rien" galery (Paris)
<![if !supportEmptyParas]> <![endif]>
<![if !supportEmptyParas]> <![endif]>
MOVIE DIRECTOR:
2001-2008: "SUBREPTICE ET CAUTEL"
2012-20XX: Works nowadays on "Les Locataires", his own cartoon serie
<![if !supportEmptyParas]> <![endif]>
INDIVIDUAL BOOKS PUBLICATIONS:
"Le pays réel"
"Les plans de la ville" Editions Cambourakis
"je suis coquet / je suis un garçon manqué"
"Sur le terrain" Editions Cambourakis
"Pourquoi le quartier a-t-il autant changé ?" Editions Soferim
"Souvenirs de Sabùra" Editions Cambourakis
LANGUAGES
<![if !supportEmptyParas]> <![endif]>
English: fluent
Spanish: fluent
French: native
Portuguese: notions
HTML & Java